Qigong Level 1 & 2
with Beth Latchis
Qigong is designed to cultivate strength of body and calmness of mind through Taoist practices that integrate movement, breath, and qi (internal energy) to promote health and longevity. A form of gentle, relaxing exercise, qigong strengthens joints, muscles, tendons, and bones, increases flexibility, stimulates the circulation of energy in our body, and enhances mental clarity. Qigong is also an excellent way to gently introduce mobility and relaxation to persons who have physical challenges.
This is a rare opportunity to receive instruction in two unique qigong lineages, neither of which have previously been fully transmitted to students in the West. The Pre-Celestial Limitless Gate School (Xiantianwujimen) and the Yiquan School, founded by Wang Xiangzhai in the early 20th century.
In Level 1, students will be in instructed in various techniques of outer and inner qigong. In Level 2, the focus will be on tendon changing and self-massage. Please note: participants are expected to attend both Levels 1 and 2 (both days)
There are no prerequisites for this program, and both new and experienced practitioners are welcome. However, students are recommended to attend both levels. The completion of Level 1 qigong is required to attend the Level 2 program. Please note that students should not teach any form of Xiantianwujimen or Yiquan qigong without permission from the Lineage.
Recommended Reading: Nourishing the Essence of Life: The Outer, Inner, and Secret Teachings of Taoism, by Eva Wong. It can be purchased here
For more information about this particular school of training, visit: https://www.limitlessgate.com/
About the teacher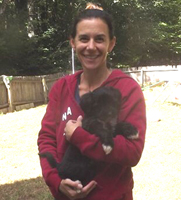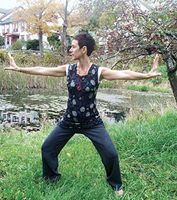 Beth Latchis is authorized to teach by Dr. Eva Wong - lineage carrier of Xiantianwujimen Taoism (Pre-celestial Limitless Gate School of Taoism) and 3rd-generation student of Wang Xiangzhai, founder of Yiquan. She has been practicing and studying qigong with Dr. Wong for ten years and is grateful for the opportunity to share these precious, health-enhancing practices with others. In addition to Daoist Qigong, she also practices Jin Shin Jyutsu (a form of healing touch from Japan) and enjoys swimming, bicycling and hiking with Kiki, her Tibetan Terrier.
A student of Sakyong Mipham Rinpoche, Beth first connected with Shambhala in Austin, Texas in 1991. Today, Beth is a member of the Shambhala Meditation Center of White River, a certified meditation instructor, and an associate-owner at Hypertherm, Inc. in Lebanon, NH.
Click here to read an old blog post from 2016, Meet Qigong Teacher Beth Latchis