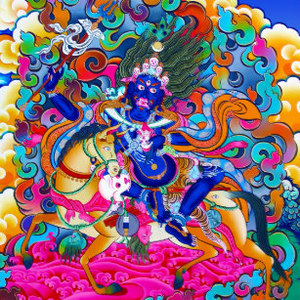 Pacifying the Turmoil of the Mamos - A Year-End Protector Practice
All practitioners are invited to participate in the mamo recitation practice. Traditionally, the mamo chant is recited by vajrayana practitioners from the twentieth through the twenty-ninth days of the last lunar month of the Tibetan year, also known as "Dön season", a time in which we are prone to accidents and slippages of mindfulness.
Pacifying the Turmoil of the Mamos is recited each year in order to pacify the karmic cause of personal, social, and environmental chaos that accumulates at the year's end. This tradition of reciting the mamo chants is considered an elaborate protector offering, in which we tune into the protector principle of awareness and reconnect with sacred outlook.
For an excellent read about the mamo chant, Dön Season, and Shambhala Day, follow this link to the Shambhala Times: https://shambhalatimes.org/2014/02/19/mamos-clarified/
SERVICE OPPORTUNITY for everyone: February 23rd, the day just before Shambhala Day, is karmically considered a neutral day. Traditionally, it is a time to clean and refresh one's home and shrines in preparation for the coming year. You are invited to sign up to help clean our Shambhala community's home - the Center spaces. Cleaning will include dusting, sweeping, mopping, shrinekeeping, and anything else that will dispel the kleshic dust bunnies! Contact Gary @ [email protected] if you wish to help.
---
***For Tantrikas: Please consider signing up to lead Mamos Chants. You can sign up for one or more evenings. See seperate e-mail or e-mail Tom Jones @ [email protected]