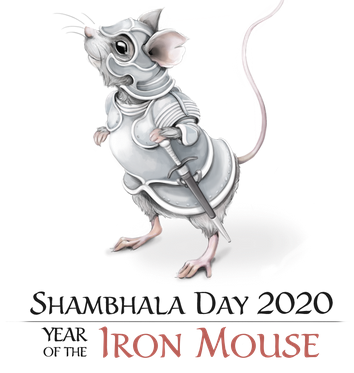 Shambhala Day 2020 Celebration: The Year of the Iron Mouse
SHAMBHALA DAY marks the beginning of the New Year, and represents one of the most important traditions of Shambhala Buddhism. Based on the traditional Tibetan New Year's celebration of Losar, the day is calculated astrologically according to the Tibetan lunar calendar, and changes every year to coincide with the annual lunar cycles.
This year, the date lands on Monday, February 24th, but in order accommodate more schedules, we will hold Shambhala Day on the Sunday, March 1st.
We've all been through an incredibly challenging time, personally and as a sangha. It feels important to recognize that many of us are in different places with our feelings about Shambhala, practice, and the Sakyong. It is our hope that we can be there for each other, amidst these differences, to practice, enjoy food and each others company.
The schedule of the day is as follows:
9:00-10:00 Community Meditation Practice
10:00-10:15 Break
10:15-10:45 State of the Center address, welcoming of new Members and officers
10:45-11:00 I Ching reading for the upcoming year
11:00-11:30 International address/broadcast
11:30-11:45 Fundraising for our Center
11:45-12:00 Offerings of song, poety, inspiration
12:00-1:30 Potluck celebration
If anyone would like to volunteer to help with creating this event, pleaes contact Charlotte @
[email protected]
Please register if you plan on attending - it would very much help us plan for food and seating!