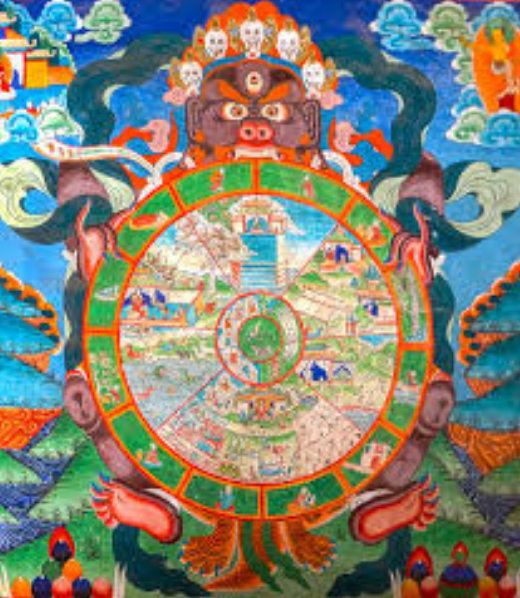 The Second Noble Truth: Origin of Suffering, Part II: The Wheel of Life, Karma, and the Twelve Nidanas
with Acharya Judith Simmer-Brown & Loden Nyima
Foundations for Freedom: The Hinayana
Course 3: The Second Noble Truth - Origin of Suffering, Part II: The Wheel of Life, Karma, and the 12 Nidanas
During this time of social distancing, this course will take place virtually on the online meeting platform Zoom.
This is the third in a series of five courses exploring the profundity of the Hinayana teachings of the Buddha. You will find an overview of the complete five-part series here
The foundational teachings of the Buddha indicate that the suffer we experience in our lives can come to cessation if we recognize, deeply and profoundly, how that suffering has arise. This requires genuine bravery and deep contemplation, bypassing simplistic notions of how our suffering has arisen. The Buddha provided powerful models for this contemplation through the interrelated teachings of karma and kleśa, or destructive emotions, as exemplified in the Wheel of Life. Drawing from the contemporary insights of our Shambhala Buddhist lineage, we will tread the ancient path of the Buddha.

Prerequisite: None, open to all

Course 3 Overview

Class 1 (live session Sept 6th): Introduction to the Second Noble Truth and Mindfulness of Life
Class 2: Kunjung of Klesa and Karma, Pre-recorded
Class 3: Wheel of Life and the Six Realms - Pre-recorded
Class 4: Twelve Nidanas: Cause (1-2) and Result (3-7) - Pre-recorded
Class 5: Twelve Nidanas: Present Lifetime (8-10) and Future Lifetimes (11-12) - Pre-recorded
Class 6: The Long View: Karma and Lifetimes and Cosmology - Pre-recorded
Class 7 (Live session Oct 25th): Discussion on Zoom with both teachers
Readings:
The Profound Treasury, Volume One: The Path of Individual Liberation

, by Chögyam Trungpa

The Collected Works of Chögyam Trungpa, Vol II

, by Chögyam Trungpa

Glimpses of Abhidharma

, by Chögyam Trunpga
For a comprehensive overview of the entire journey of the Foundations of Freedom year-long course, Acharya Dan Hessey, Acharya Judith Simmer Brown, and Shastri Loden Nymia each offer short 5 minute introductory talks. Click here to view.
About the Teachers
Acharya Judith Simmer-Brown has just retired as Distinguished Professor of Contemplative and Religious Studies at Naropa University in Boulder, Colorado, where she was a Founding Faculty member. She is an Acharya in the Shambhala lineage, and was Director of Shambhala's Ngedon School for Higher Learning for many years. She is the author of Dakini's Warm Breath: The Feminine Principle in Tibetan Buddhism and Meditation and the Classroom: Contemplative Pedagogy for Religious Studies.
Loden Nyima has been on the Shambhala and Buddhist path for 40 years, studying with of Chögyam Trungpa Rinpoche and Sakyong Mipham Rinpoche. His main interests are in opening the heart and senses through meditation and qigong and in bringing awareness to everyday life and the natural world.