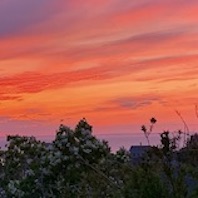 Fully Alive In Uncertainty: One Year to Live
with Myra Woodruff
In "A Year to Live", Steven Levine writes: "So I committed myself to living a year as though it were my last. To practice dying. To be fully alive. To investigate the dread of, and resistance to, life and death. To complete my birth before it is over. To investigate the part of myself that refuses to take birth fully, and hops about as though it still had one foot in the womb. To enter the healing I have seen so many times as miraculous growth during a final illness. To place both feet on the ground at last. To live with mercy and awareness in the midst of the consequences of love, or the lack thereof. To explore this ground, the ground of being, out of which this impermanent body and ever-changing mind originate. To cut though a lifetime of confusion and forgetfulness. To undertake a life review with gratitude and forgiveness. To explore that which holds to its suffering, and cultivate a heart that cannot be distracted even by death."
Bringing together meditation practices, Buddhist teachings and multifaceted resources garnered through our collective experience of Covid and a heightened awareness of climate and social change, we transform through genuine, heartfelt sharing in monthly small group conversations.
Commitment: Beginning November 2021, monthly meetings with 8 – 10 like minded people and a regular personal meditation practice (instruction offered). Each month has a topic for contemplation and discussion.
The monthly meetings will either be on-line or in person depending on the preference of the participants (and their location).
In addition there are optional readings, contemplations and journal writing. Monthly optional presentations at the Burlington Shambhala Center (or on-line) followed by conversations with people in other groups. The dates listed on this page are for the talks; participants in the program are grouped for monthly meetings according to their availability.
As this year long course invites deep personal exploration with peers of topics that can be challenging, each participant needs to understand the various aspects of their commitment for the entire year. If you did not attend any of the six informational meetings held, please contact me directly by email if you are interested at [email protected]. I will gather people for informational meetings in the next week. Registration for the course itself requires this step.
REGISTER BY October 17, 2021
For questions contact Myra Woodruff at 802 - 735 - 5069 (please leave message)