Qigong Level 3
with Beth Latchis
Daoist Qigong is a path of training that cultivates a healthy body, clear mind and open heart. Ultimately, it dissolves the split between mind and body to allow us to live a fully engaged and creative life.
In Level 3, students will learn the Hua Tu's Five Animal Forms, which develop tendon and bone strength, help preserve generative energy, and increase agility and balance. Also taught are the first part of the Immortals' Guide to Self-massage and Breath Regulation, and Chen Xiyi's Red Phoenix Calisthenics. These systems combine gentle breath regulation with simple movements and self-massage to open blockages in the meridians, align the spinal column for better circulation of qi, and enhance tendon, bone, organ and muscular strength. Lastly, four more standing qigong postures from Wang Xiangzhai's Yiquan System are also presented.
Prerequisite: Oigong Levels 1 & 2
No partial attendance. Everyone must attend ALL sessions. People who miss a session will not be entered into the database as having completed level 3 (which is a prerequisite for further levels).
For more information about this particular school of training, visit: https://www.limitlessgate.com/
About the Teacher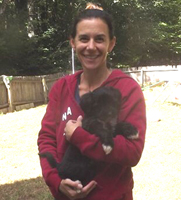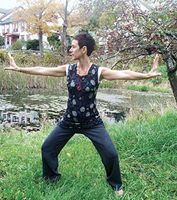 Beth Latchis is authorized to teach by Dr. Eva Wong - lineage carrier of Xiantianwujimen Taoism (Pre-celestial Limitless Gate School of Taoism) and 3rd-generation student of Wang Xiangzhai, founder of Yiquan. She has been practicing and studying qigong with Dr. Wong for ten years and is grateful for the opportunity to share these precious, health-enhancing practices with others. In addition to Daoist Qigong, she also practices Jin Shin Jyutsu (a form of healing touch from Japan) and enjoys swimming, bicycling and hiking with Kiki, her Tibetan Terrier.
A student of Sakyong Mipham Rinpoche, Beth first connected with Shambhala in Austin, Texas in 1991. Today, Beth is a member of the Shambhala Meditation Center of White River, a certified meditation instructor, and an associate-owner at Hypertherm, Inc. in Lebanon, NH.
Click here to read an old blog post from 2016, Meet Qigong Teacher Beth Latchis