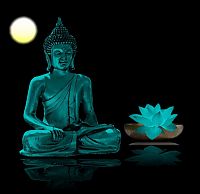 Taming the Mind
with Charlotte Brodie & William Barry
This course is an introduction to the foundational Buddhist teachings. Topics include the causes of suffering, the joy of developing discipline and peace through the path Calm Abiding sitting meditation practice. This leads to liberation and being more available to ourselves and others in our everyday life.
The texts for the class include "Taming the Mind and Walking the Bodhisattva Path," by Sakyong Mipham Rinpoche (available from kalapamedia.org, under Sakyong Mipham Rinpoche/books, $33.00) and "Cutting Through Spiritual Materialism" by Chogyam Trungpa, widely available at bookstores and online.
The course will be taught by two senior practitioners, Charlotte Brodie and Bill Barry.
Charlotte Brodie Bio for Burlington Class offerings
Charlotte began practicing and studying Buddhism at the Green Gulch Zen Center in the San Francisco area in 1984. In 1985, she encountered the teachings of the Tibetan Kagyu and Nyingma lineages, and became a student of Chogyam Trungpa, and later Sakyong Mipham Rinpoche. She has continued with practice and study through Vajradhatu and Shambhala ever since that time. Charlotte regularly teaches classes in both the Buddhist and Shambhala traditions. She has twice been the Director of the Burlingon Shambhala center.
Bill Barry Bio for Burlington Class offerings
Bill Barry is a meditation practitioner and teacher within the Shambhala Buddhist lineage. He was first introduced to Buddhism in 1999 at Brunswick Maine Shambhala Center. In addition to teaching in Maine and New England he held several roles in the Maine sangha, including the Center Director and Director of Practice and Education. He recently moved to Burlington from Karmê Chöling where he lived and worked for four and half years. During his time at Karmê Chöling he held the positions of Deputy Director and Finance Director. Is a semi retired engineer.
Pre-registration is important for planning purposes, so please don't postpone signing up! The course will be conducted online, and registrants will receive a Zoom link.
The fee for the course is $125.00. However, no one will be turned away for financial reasons.
Contact [email protected] for more information.